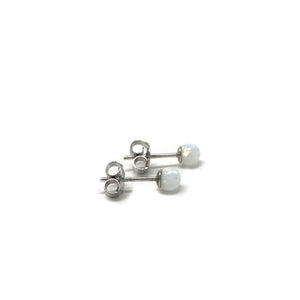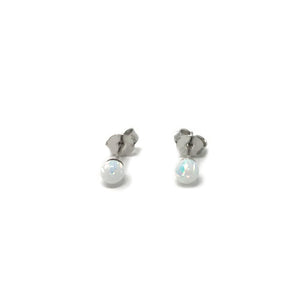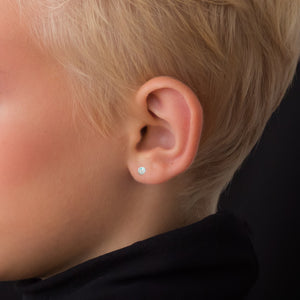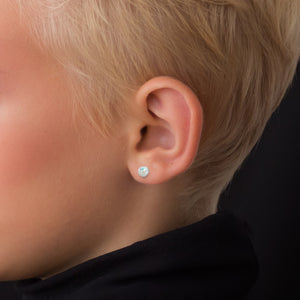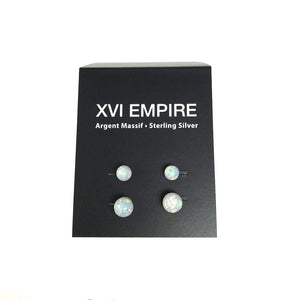 Product image 1

Product image 2

Product image 3

Product image 4

Product image 5

Description
Simple and beautiful, the Lune earrings from the Vise la lune collection by XVI EMPIRE are a Quebec design intended for persevering people determined to pursue their goals and dreams.
These sterling silver ear studs are topped with a spherical opal. You will be charmed by the delicate shine of this stone.
Meaning

Inspired by the quote from Oscar Wilde "We must always aim for the moon, because even if we fail, we land in the stars", this necklace reminds us to set goals of greatness and to follow our dreams. It reflects tenacity and perseverance.
Materials
• 925 solid silver
• Opal
Warranty
XVI EMPIRE guarantees all its jewelry for a period of 1 year from the date of purchase (proof of purchase required), the failure of which relates to production and / or manufacture. It does not cover accidents, abuse, neglect and normal wear and tear.
What is XVI EMPIRE
XVI EMPIRE
Unleash your potential, create your empire
At XVI EMPIRE, we believe in the power of the individual.
We are much more than a jewelry and accessories company. We are a community committed to personal development and self-fulfillment. We encourage everyone to dream big and take bold action to achieve their aspirations, no matter how small.
The empire we are talking about is not an outer territory, but your own inner kingdom. It is a call to become the master of your life, to take control of your emotions, to cultivate your confidence and to express your true essence.
Our exquisite jewelry and accessories are tangible reminders of your limitless potential and determination to create your own empire.
Join us on this adventure, where each piece you wear is one step closer to realizing your dreams.
Word from the creator
XVI EMPIRE embodies a way of being, thinking and acting. It is simply the fruit of my will, my dreams and my goals. Throughout my life, I have always had big dreams and big goals, both personally and professionally. Positivity and perseverance are an integral part of my being and I have always sought to spread these beautiful values ​​around me.

Admittedly, all my objectives have not yet been achieved, but I continue to keep them in mind and to "aim for the moon". I also take all possible actions which, little by little, will have their repercussions.

These elements led me to create XVI EMPIRE. I made a dream come true by creating my first jewel, the "aim for the moon" necklace. Through this company, I want to share my vision, inspire you and encourage you to believe in achieving your own dreams.

Be inspired!
#XVIEMPIRE #marsxvi
Where does the name "XVI EMPIRE" come from?
The number XVI (16) in the name "XVI EMPIRE" is of particular importance. It is composed of two digits "8" (8+8=16). The number 8 is often associated with the infinity symbol (∞), thus representing continuity, eternity and unlimited potential.

In the context of XVI EMPIRE, the two intertwined "8s" also evoke infinite perseverance. It's a reminder that the road to realizing our dreams can be strewn with challenges, but constant perseverance is key to overcoming obstacles and achieving success.

Thus, the number "XVI" represents both infinite perseverance and unlimited potential. It embodies the mentality and state of mind of the company, inviting everyone to believe in their ability to overcome limits, to recover from failures, and to persevere tirelessly towards achieving their dreams and goals. .
The term "EMPIRE" evokes the idea of ​​personal power, self-control and the creation of an inner kingdom. It represents the ability to construct one's own reality, to take control of one's life and to build a meaningful personal legacy.

The XVI EMPIRE company finds its essence in the development of oneself and the encouragement to dream and achieve one's aspirations, whether large or small. She aims to inspire individuals to unleash their unlimited potential, believe in themselves, and take the actions necessary to achieve their goals, no matter what challenges they may face.

Through unique jewelry and accessories, XVI EMPIRE wishes to offer its clientele tangible reminders of their own inner power. Each piece is crafted with love and care, conveying a message of inspiration, perseverance and personal achievement.

The name "XVI EMPIRE" therefore captures the essence of this company, which invites everyone to unleash their potential, create their own inner empire and pursue their dreams with passion and determination. It is a call to embrace one's true nature and build a remarkable future.
Product reviews
Such an inspiring symbol. I will now aim for the moon!
Annie T.
Meaning of Aim for the Moon
The Aim for the Moon collection was inspired by the famous quote by the Irish writer Oscar Wilde: "Shoot for the moon. Even if you miss, you'll land among the stars ". It means that it is important to have big goals and to pursue your dreams, because even if we do not reach the ultimate goal, we will have done better if we had not done anything.
This way of thinking has always been part of my own outlook on life. She often encouraged me to put my ideas into action and go for it to achieve my goals.
The pieces in this unique collection symbolize daring, the pursuit of goals and the achievement of dreams. Show them off proudly, spread the reasons for their existence and the reasons why you wear them.
Be proud of your achievements and have the audacity to implement the actions that, little by little, will bring your ideas, your goals and your dreams to reality.
Be inspired!
#XVIEMPIRE